Kasutamisjuhend
To assess your tolerance, take 1 capsule, 2x daily for days 1-3. Once tolerance is assessed, take 2 capsules, 2x daily for day 4 and beyond.


Warnings: Do not use if pregnant or nursing. Not intended for use by persons under 18. Do not exceed the recommended daily dose. Food supplements are intended to supplement the diet and should not be used as a substitute for a varied and balanced diet and healthy lifestyle. KEEP OUT OF REACH OF CHILDREN.
Koostis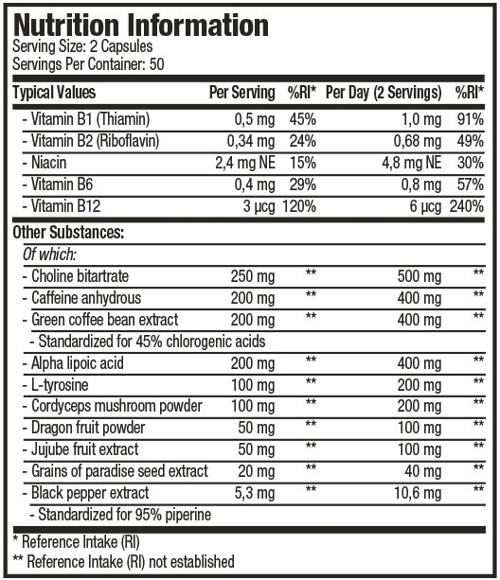 INGREDIENTS: Choline Bitartrate, Veggie Capsule (Hydroxypropyl Methyl Cellulose E464, Thickener [Carrageenan E407], Colour [Titanium Dioxide E171], Acidity Regulator [Potassium Chloride E508]), Caffeine Anhydrous, Alpha Lipoic Acid, Green Coffee Extract (Coffea canephora, Seed), L-Tyrosine, Cordyceps Mushroom Powder (Cordyceps sinensis, Fruiting Bodies) (Oat), Stabiliser (Cellulose E460), Anti-Caking Agents (Magnesium Salts of Fatty Acids E470b, Silicon Dioxide E551), Jujube Extract
(Ziziphus jujuba, Fruit), Dragon Fruit Powder (Hylocereus undulatus, Fruit), Grains of Paradise Extract (Aframomum melegueta, Seed), Black Pepper Extract (Piper nigrum, Fruit), Niacinamide, Thiamine Hydrochloride, Pyridoxine Hydrochloride, Riboflavin, Cyanocobalamin.